QINGONG Crane Branch introduced the most advanced technology from Europe and Japan and developed its unique crane series. Our main products areas are Qingong Truck Mounted Crane, Truck Crane and Crawler Crane.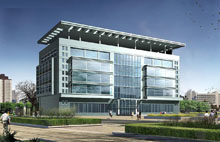 Truck Crane : QY16Q, QY20Q, QY25Q, QY35Q, QY50Q, QLY4Z, QLY5Z, QLY6K, QLY8K, and QLY10K Etc.
Truck Mounted Crane : SQ3.2SK1Q/SQ3.2SK2Q, SQ2SK1Q/SQ2SK2Q, SQ5SK2Q/SQ5SK3Q, SQ1ZK2Q/1Q, SQ4SK2Q/3Q, SQ4ZK3Q, SQ5ZK2Q/3Q, SQ6.3SK2Q/3Q, SQ8ZK3Q, SQ10SK3Q, SQ10ZK3Q¡­etc.
Crawler Crane : FWT55, QUY35, QUY 50A , QUY 50C , QUY70HD, QUY 80A , QUY90, QUY 100A , QUY120, QUY150, QUY 150C , QUY250, QUY400, QUY500.
QINGONG crane adopted special chassis based on HOWO technology platform. Equipped with EGR engine of CNHTC (STEYR technique), all cranes is hydraulic drive with full circle swinging telescopic booms. The stretch mode of the lifting boom is in sequence and synchronization, and the hoisting mechanisms are independent drive. The boom is made of high strength steel, HQ700, with main sectional plane of hexagon. The boom drive mechanism is in the inner arm to increase inner section dimensions and improve strength. Equipped with adjustable seat, PPC operation device and full automatic overload display unit, the operator's cab has an expansive field of view. Perfect and advanced safety device equipped in the crane can guarantee operation security. The lighting device is convenient for night operation. More selective equipment can be chosen by user, such as heating device, air conditioner, hydraulic pressure oil cooling system, etc.